Orem Woman Turns Trauma Into Dieting Inspiration
KSL - Nov. 10, 2003 - Sammy Linebaugh reporting

The yo-yo diet is perhaps the most popular diet in the country. You drop a few pounds, then you put them back on. Then you gain a few, lose a few. It's a tough battle for millions of people. But one Orem woman is winning the fight.
Without a gym or help from a personal trainer, Pam Hansen lost more than 100 pounds. But that's not where the story ends.
A park is the place it all began.
Pamela Hansen: "I CAME OUT TO THIS TRACK AND WENT ABOUT UP TO THE FIRST TURN THERE, AND I TURNED AROUND AND CAME HOME, AND JUST THOUGHT--THIS IS STUPID. I DON'T WANT TO DO THIS. I JUST WANT MY BABY."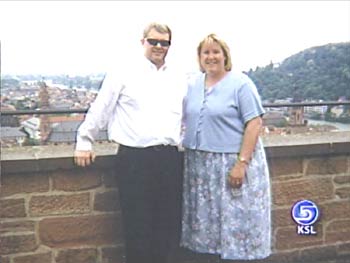 A baby who Pam Hansen says in his own way, brought an ending to the lifestyle, body size, she had known for nearly 15 years.
"I REALLY FELT LIKE AT THAT TIME I NEEDED TO DO SOMETHING."
Around her neck, the Orem mother of five wears two small gold loops. One for that son delivered still born in April of 2001...
The other for a daughter who died at birth years earlier..a loss Pam, now looking back says set her on a path of eating for emotional comfort that for more than a decade through the birth of her five other children held her captive, a prisoner in her own body.
"WHAT WERE SOME OF THE THINGS THAT WERE HARD FOR YOU? GETTING UP IN THE MORNING, SLEEPING, I WOULD ROLL OVER IN BED AND ACHE. I FELT NINE MONTHS PREGNANT ALL THE TIME."
But ironically, it was that final pregnancy--the grief of losing a child for the second time -- that Pam says forced her to make the changes she knew she needed.
"I THINK PART OF ME DIED WITH THOSE BABIES, AND IN ORDER TO FEEL MORE ALIVE I STARTED WALKING."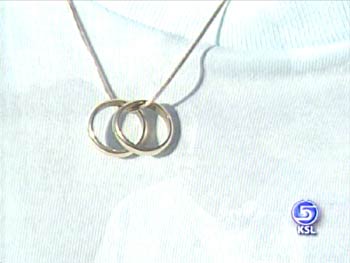 At first, just a few paces -- and always at night so no one would see her...she walked to this track just half a block from her home.
"I WAS PRAYING, CRYING, EVERYTHING..."
"AND THOSE FIVE TO TEN MINUTE WALKS TURNED INTO 45, 50 MINUTE WALKS, SIX DAYS A WEEK, AND SOMETHING INCREDIBLE HAPPENED. I JUST STARTED FEELING MORE ALIVE."
"I REMEMBER THE DAY WHEN I RAN A WHOLE MILE WITHOUT STOPPING AND IT WAS JUST A MIRACLE TO ME."
A miracle that sparked a personal mission.
"I REALLY WANTED TO RUN A MARATHON."
And in July of 2002...she did it. The woman who had spent much of her adult life unable to fit in an airplane seat or play with her kids without getting winded ran the Deseret News Marathon with husband Mark by her side and her children cheering her on...including she says, her two little angels, with her all the way.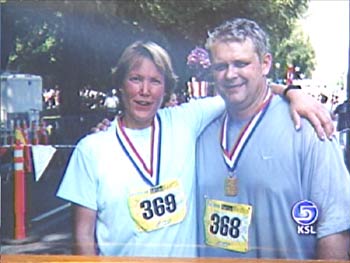 Pam Hansen: "CROSSING THAT FINISH LINE--EUPHORIC? YEAH, IT WAS WONDERFUL."
Mark Hansen: "THE FEELING TO RUN A MARATHON IS UNBELIEVABLE TO COME ACROSS THAT FINISH LINE. BUT TO COME ACROSS WITH HER AND BE WELL AWARE OF THE JOURNEY SHE'D BEEN ON, IT WAS ONE OF THE MOST INCREDIBLE EXPERIENCES OF MY LIFE."
"...MAKES ME FEEL LIKE I CAN DO ANYTHING."
Starting, she says, with that single step.
Hansen says besides exercise, she also followed the weight watchers program.
Return to Articles and Interviews